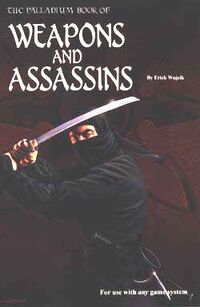 Palladium Weapon Series
---
Synopsis
Assassin societies such as the Ninja and Thuga.
How deadly were they? What secrets did they hold?
Their weapons and tools.
Special equipment, armor and techniques.
Historically accurate.
For use with any game system. Some adaptation required.
By Erick Wujcik.
Color cover by Scott Johnson.
48 pages. Square bound, comic book-sized reference book.
Description and cover art from Palladium Books Web site, copyright ???? Palladium Books Inc. All rights reserved. Rifts®, Megaverse® and Palladium Books® are registered trademarks of Palladium Books Inc. and Kevin Siembieda. All other titles and names are trademarks of Palladium Books.
Contents
Under Construction
Artwork
Cover Painting:
Errata
Under Construction
Reviews
Under Construction
Ad blocker interference detected!
Wikia is a free-to-use site that makes money from advertising. We have a modified experience for viewers using ad blockers

Wikia is not accessible if you've made further modifications. Remove the custom ad blocker rule(s) and the page will load as expected.