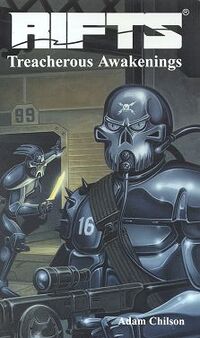 Rifts® Book Three by Adam Chilson
---
Synopsis
The Trilogy is complete! This is the last book in the Adam Chilson Rifts® Trilogy of novels.
Conflict, treachery, magic, the Splugorth, Mel Gibson(?!), and more than a few big battles all culminating into an explosive grand finale.
Cover by John Zeleznik.
Written by Adam Chilson.
500+ pages.
Cat. No. 303
ISBN:
Description and cover art from Palladium Books Web site, copyright 1999 Palladium Books Inc. All rights reserved. Rifts®, Megaverse® and Palladium Books® are registered trademarks of Palladium Books Inc. and Kevin Siembieda. All other titles and names are trademarks of Palladium Books.
Contents
Prelude
Excerpt from Rifts® Treacherous Awakenings™
Under Construction
Appearances
Dramatis Personae
Creatures
Events
Locations
Organizations and businesses
Vehicles and vessels
Weapons and technology
Weapons
Armor
Technology
Cybernetics
Magic Objects
Miscellanea
Psionics
Publishing
Edited by:
Dedication:
Artwork
Cover Painting:
Errata
Under Construction
Reviews
Under Construction
Ad blocker interference detected!
Wikia is a free-to-use site that makes money from advertising. We have a modified experience for viewers using ad blockers

Wikia is not accessible if you've made further modifications. Remove the custom ad blocker rule(s) and the page will load as expected.