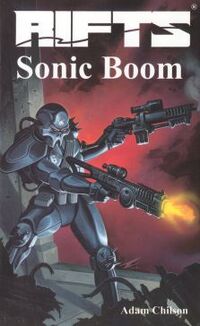 Rifts® Book One by Adam Chilson
---
Synopsis
The fabric of space and time is torn asunder and the Earth becomes a nexus — a stepping stone — to countless alien worlds.
300 years later, humankind struggles against inhuman invaders and dark magic from the Rifts. Alien beings from other dimensions, known as "D-Bees" share our planet, as do monsters and supernatural horrors. Earth has become an alien world unto itself. A place awash by an ever shifting tide of magic, madness and chaos.
Magic and technology collide, and treachery and revenge reign in the age old battle between the forces of good and evil. The only problem is telling which is which.
Rifts® Sonic Boom brings to life the fantastic world of the popular Rifts® Role-Playing Game in the first book of an epic trilogy.
Science-fantasy as only Palladium Books® can do it.
Cat. No. 301
ISBN: 157457-036-9
Description and cover art from Palladium Books Web site, copyright 1999 Palladium Books Inc. All rights reserved. Rifts®, Megaverse® and Palladium Books® are registered trademarks of Palladium Books Inc. and Kevin Siembieda. All other titles and names are trademarks of Palladium Books.
Contents
Prelude
Excerpt from Rifts® Sonic Boom™
Under Construction
Appearances
Dramatis Personae
Creatures
Events
Locations
Organizations and businesses
Vehicles and vessels
Weapons and technology
Weapons
Armor
Technology
Cybernetics
Magic Objects
Miscellanea
Psionics
Publishing
Edited by: Coming Soon
Dedication: For my buds, Jonathan Arter and Darby Green, Thanks for the fast-food pep talk. Special thanks to: Lisa Arter for your brutally honest editing and opinion, George Gill for answering my endless military questions, Nathan Byrd, and yes, it did say chapstick, My friends at the North gate for your unique perspectives, My wife, Dawn, for putting up with such eccentric behavior, And to all of you whos good advice I probably didn't listen to.
Artwork
Cover Painting: The cover is by John Zeleznik, and depicts a Coalition soldier locked in combat.
Errata
Under Construction
Reviews
Under Construction