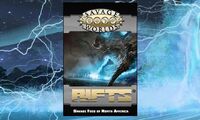 Savage Worlds™ Rifts®:
Savage Foes of North America
---
Synopsis
Information on major opposition forces like the Coalition, Federation of Magic, Black Market, Pecos Empire, Xiticix, and more.
Forces and war machines of the Coalition.
Powerful and mysterious foes from the Federation of Magic.
Supernatural and monstrous enemies that terrorize the lands of North America.
Tables for creating random creatures and even hordes of monsters coming from anywhere in the Megaverse® through the Rifts®.

Description and cover art from Kickstarter page, copyright 2016 Palladium Books Inc and Pinnacle Entertainment Group. All rights reserved. Rifts®, Megaverse® and Palladium Books® are registered trademarks of Palladium Books Inc. and Kevin Siembieda. Savage WorldsTM is a trademark of Pinnacle Entertainment Group. All other titles and names are trademarks of Palladium Books.
 
Contents
Contents of Savage Foes of North America.
Artwork
Cover Painting:
Interior Art:
Previews & Errata
Previews
Errata
Errata of Savage Foes of North America.
Reviews
Reviews of Savage Foes of North America.
Ad blocker interference detected!
Wikia is a free-to-use site that makes money from advertising. We have a modified experience for viewers using ad blockers

Wikia is not accessible if you've made further modifications. Remove the custom ad blocker rule(s) and the page will load as expected.