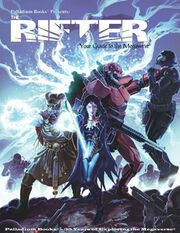 Summary
Rifts®, Splicers®, mutants and much more awaits you in The Rifter® #75. Rifts® – source material.
Splicers® – I am Legion, Part Four, by Charles Walton II, Chris Kluge and Lance Colley – adventure and "official" source material. The adventure continues as the heroes fight to thwart Legion's plans and to rescue human prisoners. Many shocking reveals. After the Bomb® with more mutant animal mayhem.
Maybe some Dead Reign® or Fantasy material and more.
News, coming attractions, product descriptions and more.
A dynamic Rifts® cover.
96 pages – Cat. No. 175.
Ad blocker interference detected!
Wikia is a free-to-use site that makes money from advertising. We have a modified experience for viewers using ad blockers

Wikia is not accessible if you've made further modifications. Remove the custom ad blocker rule(s) and the page will load as expected.