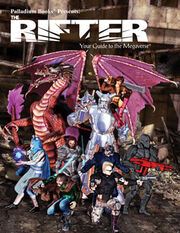 Summary
The Rifter® #69 is packed with exciting and fun material for Rifts®, Chaos Earth®, After the Bomb®, Dead Reign®, Heroes Unlimited™ and more!
The Rifter® #69 – Winter, 2015:
Rifts®: Arenas of Atlantis by Will Erwin.
Rifts® Chaos Earth®: First Responders of New Mexico by Daniel Frederick.
After the Bomb®: Long Gull Islands by Michael J. Osborne.
Heroes Unlimited™: Adventure ideas by Glen Evans.
Dead Reign®: Tampa Bay by Eric Sturm.
Rifts® Short Story: Clean, Part One, by Irvin Jackson.
News, coming attractions, product descriptions and more.
Rifts® cover by "Madman" Mike Leonard.
96 pages – Cat. No. 169.
Ad blocker interference detected!
Wikia is a free-to-use site that makes money from advertising. We have a modified experience for viewers using ad blockers

Wikia is not accessible if you've made further modifications. Remove the custom ad blocker rule(s) and the page will load as expected.