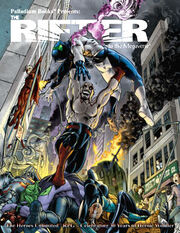 includes
Heroes Unlimited™ – Power Behind the Throne – by Alex Tullock. Get a glimpse at some of the true powers pulling the strings of governments and their superhumans. Spice up your Heroes Unlimited™ campaign with some political, spy and espionage elements along with supermen. Plenty of ideas for adventures, and includes NPCs and Hook, Line and Sinker adventure ideas.
Splicers® – House Pandorum: The Chaos Spreads – by Kris Tipping. House Pandorum is back, with new Gardener Biotic enhancements, unique plant creations, Template Biotics and more. Illustrated by Charles "Splicers" Walton.
Rifts® – Monsters of Africa – by Jeff Duncan. 14 new monsters to add to your Rifts® campaign. Art by Tanya J. Ramsey.
Rifts® – Outpost F279™: An Adventure – by Anthony Uyl. Looking for a fun adventure to throw at your Rifts® players? Well, here you go. Enjoy.
News, coming attractions, product descriptions and more.
Heroes Unlimited™ cover by Michael Wilson.
Art by Allen Manning, Brian Manning, Mike Mumah, Ben Rodriguez, Tanya J. Ramsey and Charles Walton.
96 pages – Cat. No. 167.
Ad blocker interference detected!
Wikia is a free-to-use site that makes money from advertising. We have a modified experience for viewers using ad blockers

Wikia is not accessible if you've made further modifications. Remove the custom ad blocker rule(s) and the page will load as expected.