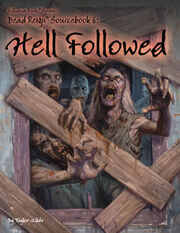 Hell Followed is Sourcebook Six for the Dead Reign RPG. It is on pre-order.
Official summary
Hell Followed™ – A Dead Reign® Zombie Apocalypse Sourcebook At 160 pages, Hell Followed™ is the largest Dead Reign® sourcebook yet. Spring or Summer release. Can you survive the Zombie Apocalypse? Find out by playing Dead Reign®. The results may surprise you. New O.C.C.s and skills. New zombies and other menaces. More world information, new dangers and new adventurers. Written by Taylor White. 160 pages – Cat. No. 236.
External links
https://palladium-store.com/1001/product/236-Dead-Reign-Sourcebook-Six-Hell-Followed.html
Ad blocker interference detected!
Wikia is a free-to-use site that makes money from advertising. We have a modified experience for viewers using ad blockers

Wikia is not accessible if you've made further modifications. Remove the custom ad blocker rule(s) and the page will load as expected.