Ad blocker interference detected!
Wikia is a free-to-use site that makes money from advertising. We have a modified experience for viewers using ad blockers

Wikia is not accessible if you've made further modifications. Remove the custom ad blocker rule(s) and the page will load as expected.
Major players are involved in operations to gain influence with minor players often at each others expense, such as has been done in the past: http://en.wikipedia.org/wiki/The_Great_Game
Rifts versions of The Great Game continue to play out in rifts earth between the Coalition/NGR, and the Splugorth and other Alien Intelligencies who try to subvert the other various smaller and less powerful citystates that dot the wasteland of Rifts Earth.
North America
The Coalition

Societies of Magic

Independents

Wildcards



Mexico/Central America
The Vampire Kingdoms
Ixzotz Kingdom
The Mexico Empire
Muluc Kingdom
Milta Kingdom
Chichen Itza
Xibalba
Other Cities of Note
El Paso
Palenque
Yaxchilan
Altun Ha
Rio Bec
Becan Cluster
Etzna
Uxmal
Merida
Copan
Belize City
Coba
Atlantis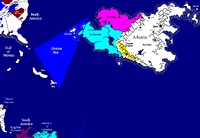 Splynn
Dragcona
Ki-Talan
Azlum
Xym
Alvurron
The Refuge
The Preserves
South America
Colombia
Haktla
Maga Island
Bahia
New Dracona
Manoa
Omagua
Cibola
Empire of the Sun
Arkhon Freehold
Megaversal Legion
Silver River Republics

Cordoba
Santiago
Achilles Republic
New Babylon
Southern Federation
Nuevo Peru
Africa
Phoenix Empire
N'beh of Tassili N'Ajjer
Gorth of Splynn
The Ancient Father Congo Millennium Tree
The City of Taunak
The Kalahari Oasis
Japan
The New Empire traditionalists of the Kyoto Millennium Tree
The Ichto Province
Otomo Shogunate
H-Brand Corporation Otomo Enclave
The Republic Of Japan
Australia
Old Sydney Town and the Eastern Humanity Republic of Australia
Ayers Rock Aborigones
The Hidden City Shadow People
Sterling
Trade Town
New Brisbane
Victoria Haven
Point Clare
Enclosed City of Melbourne
Enclosed City of Perth
Mokoloi Repile Men Tribes of the Northlands
Europe
UK
London of Splynn
The Village of Sarum of Dorset England
The Goblin Kingdom of Newport Wales
The Dragon's Grave Scotland
The Kingdom of Tarramore Dublin Ireland
The Irish Faerie Hoards
Balfarg and The Tree of Ages the Scottish Millennium Trees
Nog Heng the English Millennum Tree
New Camelot of England
Nortown the English Faerie Kingdom
Berwynmoore Kingdom of Wiltshire England
Wales Monsterous Hordes
The Eternal City of Somerset England
Mainland
Le Morte French Blood Druids
New German Republic (Germany and Denmark)
Gargoyle Empire (Austria and Switzerland)
Broadkil Empire (Poland and Czech Republic)
Scandinavian Alliance (Scandinavia)
China
Russia